Hello,
We have introduced a new feature to the "Ask Koffi" forum - "Ask Koffi ID Cards".
These cards are issued to all members via PM shortly after registration by the
ID Card Distributor
. If you haven't received an ID card, then please PM the
ID Card Distributor
to enquire about your card.
We are yet to decide what to use them for, but we have decided that if we issue them now, when we do come up with something to use them for, it'll be a lot easier to get it running.
Everybody's card is different, and this is what they will look like: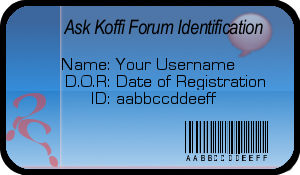 Hope you enjoy.